We make our own fun
So I finished the latest two parts of Book of Ink Circles. When you're doing a long term project, I've discovered you learn to make your own fun. I doubt it's entirely a coincidence. All of the "Dutch Beast" motifs had hidden in-jokes/meanings, so why should this Mystery be any different?
For this corner section, I think Buffy the Vampire Slayer's Anya has reason to be afraid... very very afraid.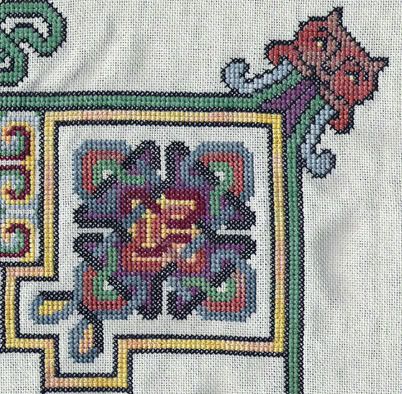 Maybe they're to chase the frogs away? Or keep the cats company? Or look furry and menacing? Cause they're not just cute like everyone supposes.
For the next section, maybe it was because of July 4th, but I kept quoting certain lines from the musical "1776". See if you agree: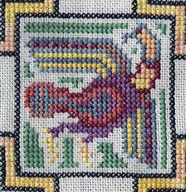 FRANKLIN: The turkey!ADAMS: The eagle!
So I figure the bird can be either done in browns/oranges for Thanksgiving or in patriotic fervor for the 4th. Your pick.
Labels: celtic mystery sal, flashback, scans